The Young People for Global Goals Conference 2019 will bring together young people to focus on achieving Global Goals in Africa.
About this Event
We invite you to join us at this year's Young People for Global Goals Conference, happening on the 29th of November 2019 at the National Merit House Maitama, Abuja.
Our goal is to bring together bright minds to give talks that are idea-focused, evidence based and on a wide range of subjects, to foster learning and inspire a more impactful role of young people in promoting global goals in Nigeria and the African continent.
The Africa We Want
There is a pertinent need to transform Africa and redefine Africa especially in the eyes of a child. An urgent need to provide an inclusive Africa where every young person can grow well and blossom, where opportunities never get exhausted and every life matters.
The question that needs to be answered however, is Africa really rising, is Africa in any way sustainable?
The conference this year will put spotlight on the problems faced by the continent but most importantly the solutions that young people are bringing on board.
It will be an all encompassing well thought out discuss on the hopes and aspirations of the African Child.
Finally Young People for Global Goals Conference will provide a forum where youth can learn more about the sustainable development goals and the role of young people in its actualization.
Keynote speakers include:
Dr. Richard Munang, Africa Regional Climate Change Coordinator at UN Environment. Champion of Innovative Volunteerism
Governor Nasir El-Rufai, The Executive Governor of Kaduna State Nigeria -Not yet confirmed
Ramatu Jibril, Vice National Coordinator of Give North Education
Don Wettrick, International Speaker, President and Co-Founder of Startedup Foundation, a young people mentor and an advocate for innovation.
Jacob Sule, Education Advocate and advisory council member for KDSL Global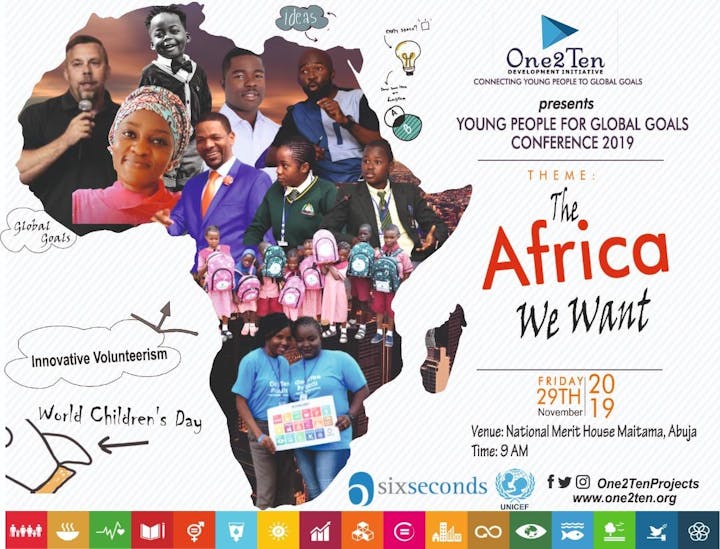 Date And Time
Fri, November 29, 2019
9:00 AM – 2:00 PM WAT
Location
Nigerian National Merit Award (NNMA)House
22 Aguiyi Ironsi Street
Abuja, Federal Capital Territory
One2Ten Development Initiative Connecting Young People To Global Goals
Organizer of Young People For Global Goals Conference 2019 – The Africa We want
Having worked more than 5 years with young people in Africa and promoting Global Goals, One2Ten Development Initiative launched the Young People for Global Goals conference – a pioneer conference set to create a milestone for the actualization of global goals in Nigeria and in the African continent through the shared ideas of young people. The conference is aimed at bringing together young people from all works of life to discuss and develop sustainable solutions to global challenges as they relate to Nigeria and Africa.