SME Springboard Trade Fair 4.0 is set to host entrepreneurs in Abuja and it's environ.
In its 4th edition we would be creating a platform for entrepreneurs to showcase their products and services,which would ultimately give them visibility and support their growing businesses.
Amongst the categories of businesses we are looking to showcase are fashion, beauty, food, services, perfumery etc.
We are happy to share on about the various brands, who have endorsed our fair, and have partnered with us, thereby making 4.0 a truly special/memorable event.
Special thanks to,
✔Indomie Relish
✔Kellogg's
✔Minimie Chin Chin
✔Munch it
✔Bolton White apartments
✔Power Oil
✔Ntel
✔Abuja Enterprise Agency
✔ Gen Nigeria
It promises to be fun, and there are loads of prices to be WON.
It would be a time to appreciate and celebrate entrepreneurs for being drivers of our nations economy.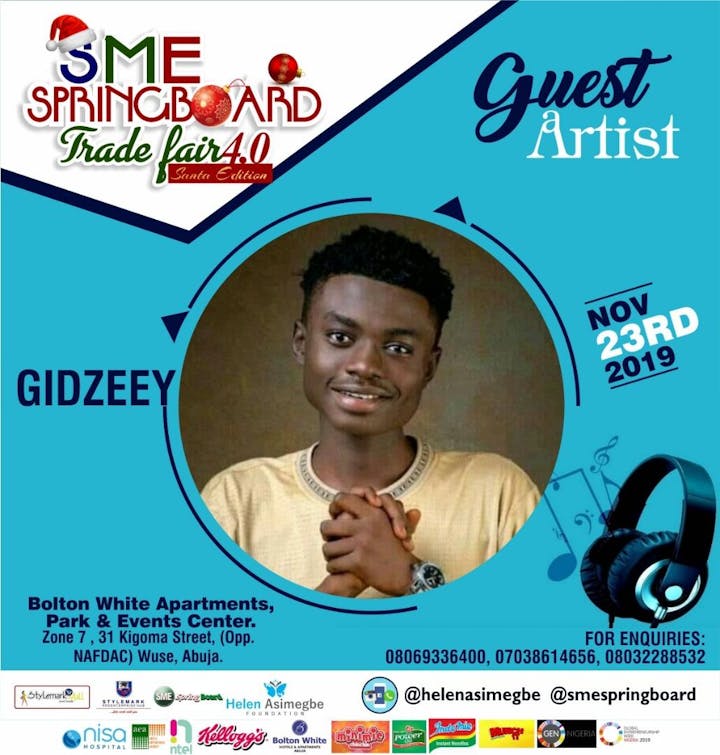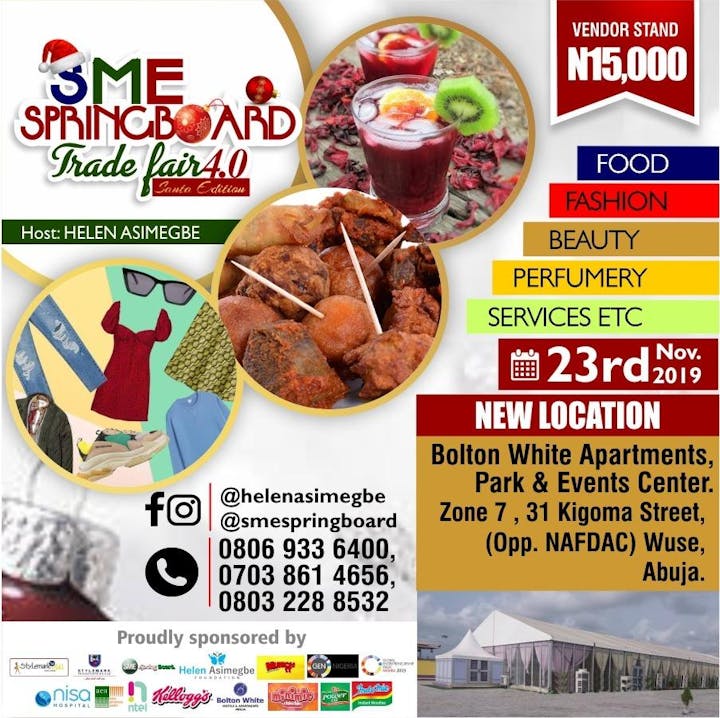 Stylemark ProEnterprise Hub
Organiser of SME Springboard Trade Fair 4.0
Helen Asimegbe is a serial Entrepreneur,and a humanitarian entrepreneur.She is the MD/CEO of Stylemark Mall(A retailer of children's clothes) and Stylemark ProEnterprise Hub,a platform that trains and mentors MSMEs.
She is also the founder of SME Springboard.
She has great passion to see Entrepreneurs start and scale.The vision behind SME Springboard Trade Fair,is to create access to market for Entrepreneurs in and arround the environs of Abuja.
She loves to see Entrepreneurs thrive!
Sat, 23 November 2019
09:00 – 19:00
Location
Bolton White Apartments, Park and Events Centre
31 Kigoma Street
#Zone 7
Abuja, Federal Capital Territory 900287