Kairos Forensics Services is a private forensic investigation company in Nigeria. We aim to provide complete forensic science investigation.
About this Event
During this intensive one day workshop, you will have a better understanding of;
First Aid to Accident or Crime Victims.
How Criminal Minds work.
Effective Crime Scene Management.
Crime Scene Investigation.
Reporting a Crime Scene on Social Media / Appropriate authorities.
You also get to work on a crime Scene as an Investigator.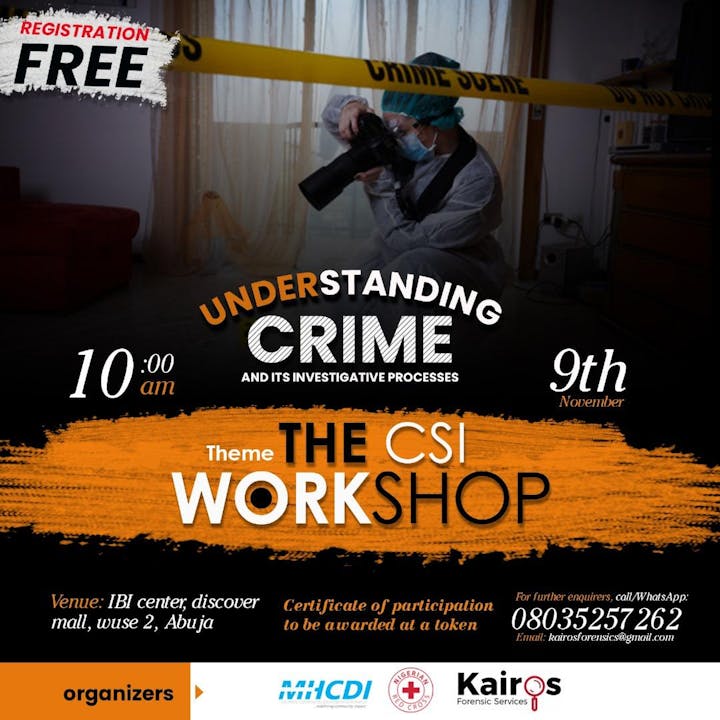 My Hero Community Development Initiative (MHCDI)
Organizer of UNDERSTANDING CRIME AND ITS INVESTIGATIVE PROCESSES BY KAIROS FORENSICS
 My Hero Community Development Initiative is a Non-Government Organizations aimed at helping individuals and communities realize their full potentials. we are delighted to host the two weeks Skills Acquition training starting this April . The event promises to add value to participants, engaging, fulfilling and all encompassing. See you there!!!!!
Date And Time
Sat, November 9, 2019
11:00 AM – 2:00 PM
Location
Discovery Mall
215 Ademola Adetokunbo Crescent
Abuja, Federal Capital Territory