Dakota Wesleyan University is organizing it's first annual national conference on 'The State of Higher Education in Nigeria' at Shehu Musa Yar'adua Center, No 1 Memorial Drive, Central Business District, Abuja on the 12th of March 2020.
The essential role a good higher education plays in transforming and sharpening the minds of Nigerians is indisputable, and so is its effectiveness in transforming the country in all other important dimensions – economically, socially and politically.
Hence, the conference provides a platform for students, professors, administrators, researchers and other stakeholders to present ideas and experiences while establishing partnerships to engender sustainable development of Nigeria's educational sector.
For more information about registration and participation please contact: abujainfo@dwu.edu or call +2348089975226, +2349067000065
#education #highereducation #transformingeducation #students #youth #sdg4 #university #nationalconference #researchers #research #professors #administrators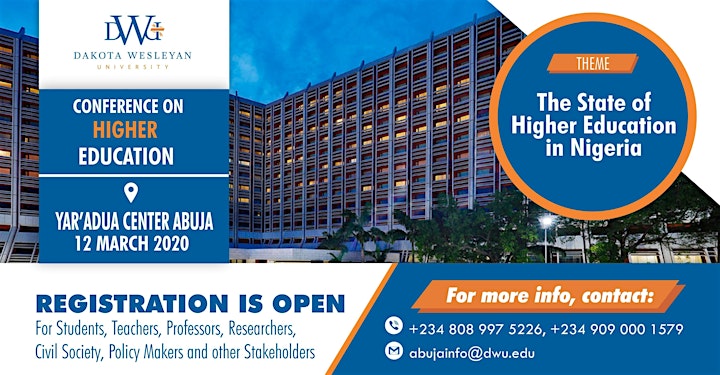 Date
Thu, March 12, 2020
8:00 AM – 4:00 PM
Location
Shehu Musa Yar' Adua Centre
No 1 Memorial Drive
Abuja, Federal Capital Territory 9000247