The Women's Theatre Festival will provide an opportunity for women to dialogue; explore their concerns as members of the society through art
About this Event
The objective of the Women's Theatre Festival (WTF) is to support the various artistically skilled women in creating theatre and performance art by creating a safe space through theatre for their voices, their truths and their stories to be told.
To raise social awareness about unpopular issues women are faced with.
To discover and train women on how to use diverse art forms to creatively express themselves.
To give women a safe space to network, share ideas and skills, reach out to other women as agents of change.
To create, produce, & promote extraordinary theatre by women that defies stereotypes, embraces diversity & inclusivity, & champion gender equality.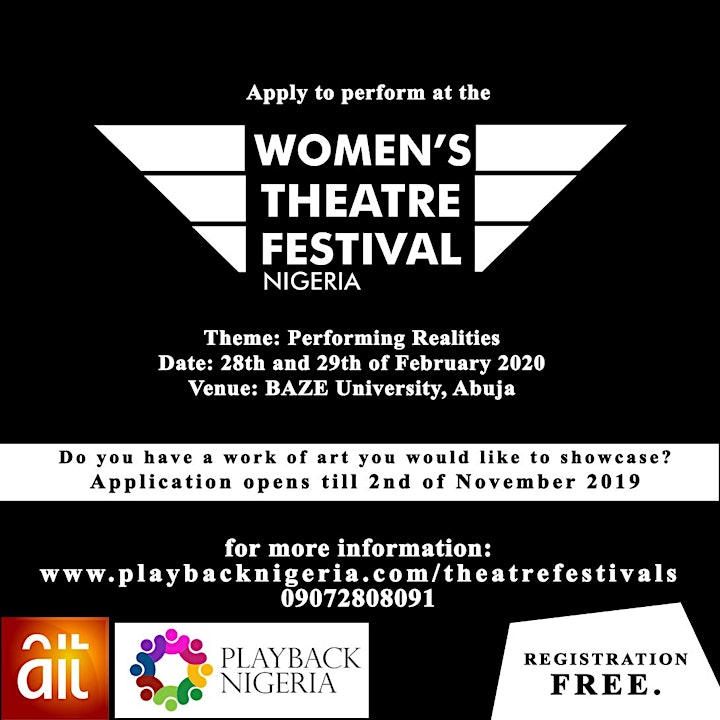 Date And Time
Fri, Feb 28, 2020, 7:00 AM –
Sat, Feb 29, 2020, 10:00 PM
Location
Baze University
Idu
Abuja, Federal Capital Territory
Playback Nigeria
Organizer of Women's Theatre Festival 2020
Playback Nigeria is a registered art-based organization dedicated to using interactive arts for psychosocial support, community interaction, enhancement, development and capacity building. Our approach is rooted in the use of art, including drama, music, puppetry and reflective drawing as well as narrative approaches – recreational art.