The World Cancer Day 2020 Walk, Race, Cycle and Marathon against Cancer in Abuja
About this Event
Since 2015, Project PINK BLUE has been hosting World Cancer Day events, in 2019 we hosted the biggest Worlkd Cancer Day event in Africa with over 3,000 people joining the walk in Abuja.
In 2020, we would be hosting the largest WORLD CANCER DAY Walk, Race, Cycle, Skate & Marathon against Cancer ever seen. It would be a 5km Walk, 10km Race, 20km Ride, 5km Skate, 50km Cycle and Marathon against Cancer.
We would create awareness and advocate for better cancer care for those battling cancer in Nigeria. There would be a Massive Walk, Cycling, Skating, Marathon, Aerobics, Games, Singing, Dance, FREE Breast, Cervical & Prostate Cancer Screenings and so much Fun!!
We would Network, Play, Aerobics, Dance, Exhibitions, Games & Sing. Everyone is Invited.
World Cancer Day 2019 is supported by U.S. Consulate Lagos, Transcorp Hilton Abuja, Cosgrove, AIT, Dana Air, Union for International Cancer Control (UICC) and Federal Ministry of Health.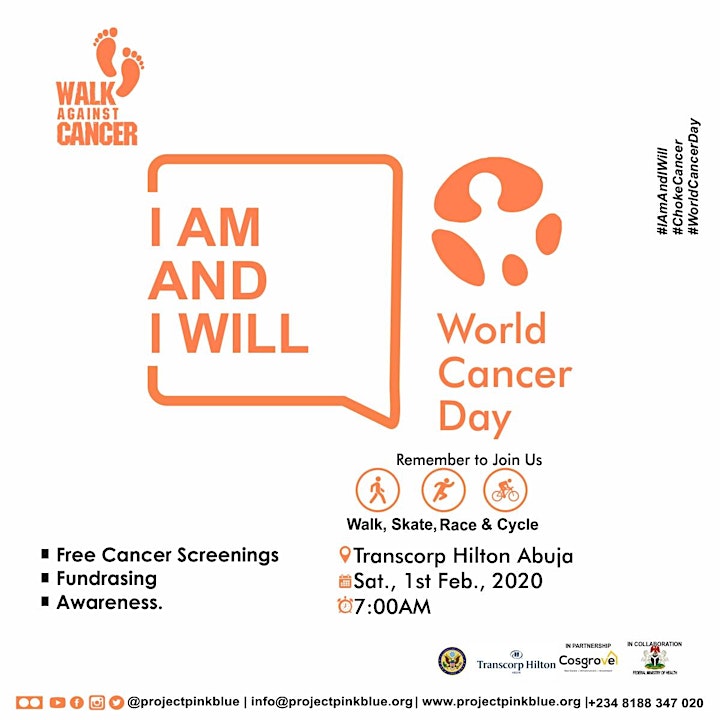 Date And Time
Sat, February 1, 2020
7:00 AM – 5:00 PM
Location
Transcorp Hilton Abuja
1 Aguiyi Ironsi Street
Abuja, Federal Capital Territory 900001
Project PINK BLUE – Health & Psychological Trust Centre
Organizer of World Cancer Day 2020 Walk, Race and Cycle against Cancer in Abuja
Project PINK BLUE- Health & Psychological Trust Center is a leading cancer fighting organization engaged in cancer awareness, free cancer screenings, oncology education, advocacy and fundraising for cancer patients. Our impacts earned us the prestigious and noble Nelson Mandela-Graca Machel Innovation Award, Johannesburg, South Africa (bit.ly/NelsonMandelaGMAward); Global Shapers Community Abuja I AM BOLD Award, Shape Africa 2014; Semi-finalist in the Big C Competition by LiveSTRONG, Austin, TX, USA (bit.ly/BigCPrize) and Winner, SPARC MBC Challenge award 2015, Lisbon, Portugal (bit.ly/SPARCAward) and World Cancer Day Spirit Award, Malaysia at the 2018 World Cancer Congress (https://www.uicc.org/uicc-award-winners-announced). Project PINK BLUE work's just won the 2020 Global Ties United States IVLP Award for Social Innovation and Change. (https://ng.usembassy.gov/2020-global-ties-ivlp-alumni-award-for-social-innovation-and-change-goes-to-nigerian-health-advocate/)
Learn more: www.projectpinkblue.org or Follow Us on Social Media: @projectpinkblue