Dance against Cancer is a charity dance event against cancer, bringing various dance groups together and help increase cancer awareness
About this Event
According to the World Health Organization (WHO), there has been an estimated 112,000 new cases of cancer, and over 70,000 cancer-related deaths recorded in Nigeria in 2018, hence leaving a huge gap in the support system for victims and their families.
Due to this realization, there is a dire need to create a platform for support and information for cancer victims and their families, there is lack of support for people dealing with devastating effects of losing loved ones to this illness. In addition, this loss leaves a traumatic effect on the family., which take a long time to heal from.
ProjectMum in collaboration with Project PINK BLUE is hosting 'Dance against Cancer' to aid in promoting cancer awareness. This event will focus on cancer victims and their family members, individuals with a family history of cancer, etc.
Dance for Cancer will have key activities to aid in promoting our cause. Event activities will include;
➢Cancer screening
➢Dance sessions
➢Counselling sessions
➢Talks about the big 'C', early detection , treatment and support
➢Development of support groups amongst different cancer victim families
Event goals
•Our main goal is to provide support for families who have lost their love ones to cancer
•To educate and spread awareness of cancer: early detection = early diagnoses = early prognosis.
•To educate women on good breast health and how to perform monthly breast self examination
To educate all attendees about the different types of cancer
•Provide free counselling sessions by qualified psychologists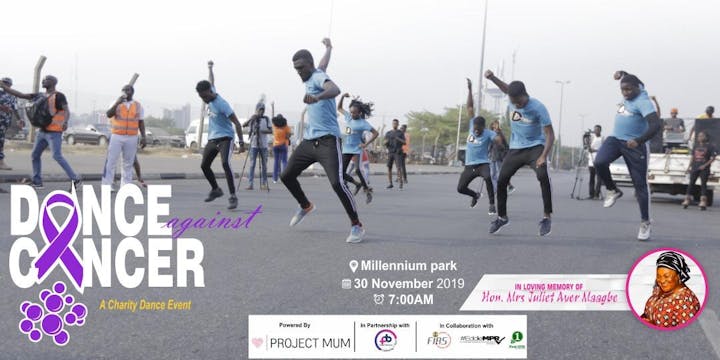 Date And Time
Sat, November 30, 2019
7:00 AM – 10:00 AM WAT
Location
Millennium Park
Yakubu Gowon Crescent
Abuja, Federal Capital Territory
Project Mum
Organizer of Dance against Cancer